Anderson Cooper 360 blog on Afghanistan's untold story
August 20, 2009 By John Blake CNN  
"Afghanistan has been called the graveyard of empires, but it's more of a crossroad of cultures," Fitzgerald said.
The cultural richness is what Shorish-Shamley remembers from her childhood. Though she was a Muslim, she remembered attending Jewish holiday celebrations. Hindus, Sikhs, Shiites and Sunnis lived easily with one another, she says.
"My mother's best friends were Jewish," she said. "My mother had a set of cups and dishes that were kosher that she kept for her friends when they came over for dinner."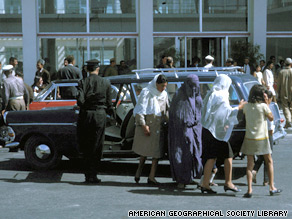 As recently as the 1970s, Afghan women could be seen wearing miniskirts in Kabul.